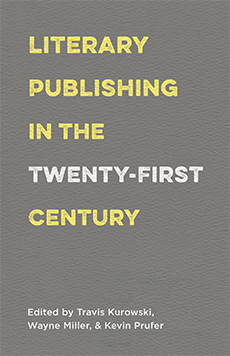 Gutenberg's invention of movable type in the fifteenth century introduced an era of mass communication that permanently altered the structure of society. While publishing has been buffeted by persistent upheaval and transformation ever since, the current combination of technological developments, market pressures, and changing reading habits has led to an unprecedented paradigm shift in the world of books.
Bringing together a wide range of perspectives—industry veterans and provocateurs, writers, editors, and digital mavericks—this invaluable collection reflects on the current situation of literary publishing, and provides a road map for the shifting geography of its future: How do editors and publishers adapt to this rapidly changing world? How are vibrant public communities in the Digital Age created and engaged? How can an industry traditionally dominated by white men become more diverse and inclusive? Mindful of the stakes of the ongoing transformation, Literary Publishing in the Twenty-First Century goes beyond the usual discussion of 'print vs. digital' to uncover the complex, contradictory, and increasingly vibrant personalities that will define the future of the book.
"A primer on big and small presses, literary magazines and all things digital, diversity, and economics, with contributions from many of the lit world's best and brightest, Literary Publishing in the Twenty-First Century is a lively, timely, and indispensable guide to navigating the current exciting and rough waters of literary publishing."—Rob Spillman
"Any reader or writer who needs to know about the present and future of literature in our time should consult this collection. It is opinionated, lively, and instructive."—Bill Henderson
---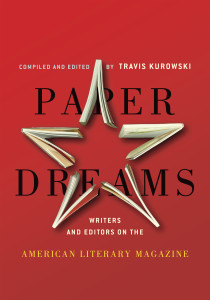 Paper Dreams brings together a conversation that has lit a rhetorical fire under editors, writers and readers since the onset of print and the E-revolution: how the literary magazine form has stood the test of time and proven its mettle through the inventive grassroots resourcefulness of written word enthusiasts.
This rich, collective history of an evolving medium—from micro-run letterpress examples to digital-only platforms—illustrates the significance of what has become a longstanding creative pillar and cultural linchpin of American society.
The anthology features essays and interviews by and with literary icons (Pierre Bayle, Ralph Waldo Emerson, Harriet Monroe and Ezra Pound) and influential contemporaries (Frederick Barthelme, T.C. Boyle, Roxane Gay, Herbert Leibowitz, Rick Moody, Speer Morgan, Jay Neugeboren, Jim Shepard, Laura van den Berg, and dozens of others).
Recipient of the 2014 Independent Publisher Book Award (IPPY) Gold Medal in Writing/Publishing
A Foreword 2013 IndieFab Award Winner
"[A] history and a how-to that illuminates the influence, delights, problems, and engaging idiosyncrasies of these important magazines in American literary culture." —Publishers Weekly
"The literary magazine has endured a century of change: from the need to advertise and have serious financial backing to succeed, to the conflict of defining serious fiction, to the ironies of publishing in print versus online. But it has endured. The progression shows that the conversation isn't over yet. Travis Kurowski's work succeeds in bringing the past, the present, and the future of the literary magazine together in such a manner in which readers and writers alike will remember the purpose of all of this in the first place." —The Summerset Review
"Quite simply, this book is a goldmine." —Erika Dreifus
"The wonderful world of literary magazines just got more wonderful." —The Review Review
Interview about Paper Dreams at Writer's Relief